Speaker Spotlight – Cheryl Strayed
Thursday, September 14
9:00 - 10:15 AM
Alpine Ballroom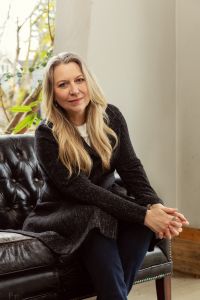 Cheryl Strayed is an American author, essayist, and podcast host, best known for her memoir "Wild", which recounts her 1,100-mile solo hike along the Pacific Crest Trail.
Seeking to heal herself after her divorce, addiction, and her mother's death, Cheryl embarked on a journey of self-discovery that led her to hike the Pacific Crest Trail. Her memoir "Wild", which chronicles her physical and emotional journey, became a bestseller and was adapted into a movie starring Reese Witherspoon.
In addition to "Wild", Strayed has written several other books, including "Tiny Beautiful Things", a collection of advice columns she wrote under the pseudonym "Sugar", and "Brave Enough", a collection of quotes and sayings that inspire courage and resilience. She has also hosted the popular podcast "Sugar Calling", in which she interviews writers about how they find meaning in their work. Strayed's writing is characterized by its honesty, vulnerability, and raw emotion, and has inspired readers around the world to confront their own challenges with courage and compassion.
Cheryl's official bio is below.
Cheryl Strayed is the author of the #1 New York Times bestselling memoir Wild, the New York Times bestsellers Tiny Beautiful Things and Brave Enough, and the novel Torch. Strayed's books have been translated into nearly forty languages around the world and have been adapted for both the screen and the stage.
The Oscar-nominated movie adaptation of Wild stars Reese Witherspoon as Cheryl and Laura Dern as Cheryl's mother, Bobbi. Tiny Beautiful Things was adapted for the stage by Nia Vardalos, who also starred in the role of Sugar/Cheryl. The play was directed by Thomas Kail and debuted at The Public Theater in New York City.
Strayed is the host of the New York Times hit podcast, Sugar Calling and also Dear Sugars, which she co-hosted with Steve Almond. Her essays have been published in The Best American Essays, The New York Times, the Washington Post Magazine, Vogue, Salon, The Sun, Tin House, The New York Times Book Review, and elsewhere. Strayed holds an MFA in fiction writing from Syracuse University and a bachelor's degree from the University of Minnesota. She lives in Portland, Oregon.